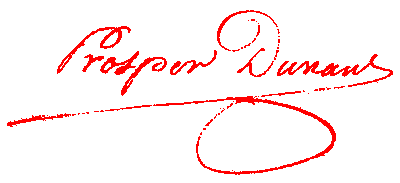 Painter of Savoie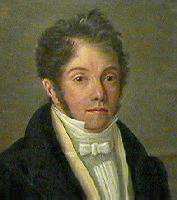 Prosper Dunant was born in 1790 to a wealthy Savoyard landowning family in the hamlet of Lathuille, near the city of Annecy. He studied architecture and painting before devoting much of his adult life to provincial landscape painting "d'après nature".
He received a first introduction to painting beginning in 1805, under the able guidance of Pierre-Emmanuel Moreau of the Annecy School of Arts. But it is during his later Parisian studies (1812-1816) that he further developped and refined his techniques at the École des Beaux-Arts.
Upon his return to Savoie, he crisscrossed the region and made a huge number of drawings that he was to rework later on as engravings, lithographs and paintings. While devoting himself to landscape painting and drawing, he realised numerous architectural and design projects for his father's firm. True to the thinkers and writers of his time, he practised "walks destined to contemplation and study of nature" and in his work exalted the picturesque and anecdotal elements of a realistic landscape, as can be seen most notably in his sketches of peasants "in the style of Töpffer". It seems that he knew the famed Swiss artist and accompanied him on his walks in the Annecy area between l820 and 1822.
---
His work is composed of numerous drawings and paintings from which he later made engravings which were quite successful in his lifetime. The art afficionado will note that while the drawings are elegant and graceful, the engravings are often lacking in these qualities, undoubtedly due to the difficulty of working in the medium.
The paintings, from watercolors to tempera to oils, show an evolution of style as painterly qualities progressively dominate, with the mastery of color replacing the linear representation so characteristic of his early works. His style progresses from classically-inspired landscapes to romantic and eventually to pre-impressionism; his "effects of light and clouds on Lake Annecy" is reminiscent of Turner's work, though it cannot be established whether Dunant was familiar with the English master's work. He did, however, frequent painters connected with the Barbizon school and this may explain in large part the evolution of his style.
The photo at right shows Alain Bexon explaining Dunant works to visitors during the Dunant Exposition at the Chambéry Art Museum in 1997.
The six paintings shown below by the diversity of their styles clearly illustrate the evolution of Dunant's work which spans mush of the Nineteenth Century.